Vivago MOBILE application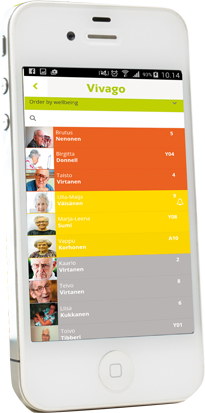 Vivago MOBILE provides versatile help to the user
The Vivago MOBILE application connects care providers at home and in care facilities. The application meets the needs of all those in the care chain – the user, a relative, care personnel, and the emergency services.
Notifications and alarms conveniently to a smartphone or tablet
The Vivago MOBILE application supports the Lean concept of change that is used in healthcare, making everyday tasks easier and more efficient. The application enables the care personnel to monitor the user's wellbeing, prioritize tasks, and receive alarm notifications. Notifications of sudden changes, as well as changes over a longer time interval, can be sent to a smartphone or tablet. The application allows alarms and notifications to be acknowledged quickly, and if necessary a talking connection can be made with the customer.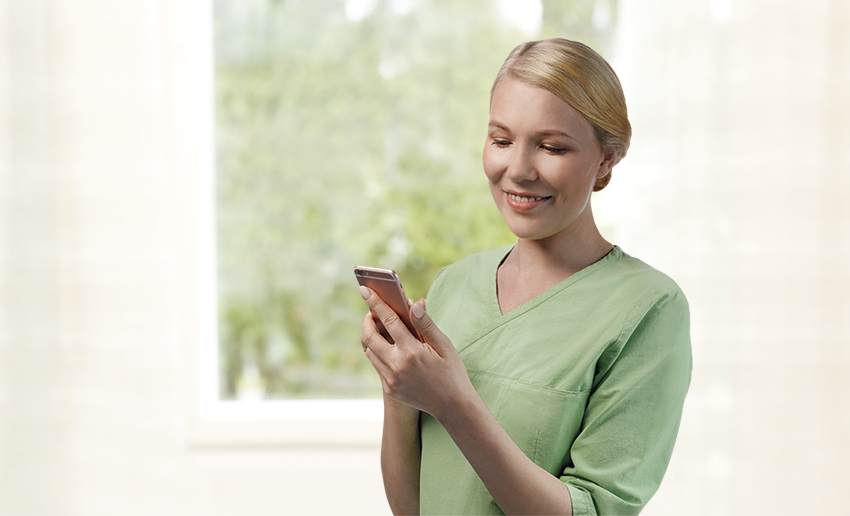 Wellbeing information in easy-to-read format
With the Vivago MOBILE application, it is easy to obtain a comprehensive view of the customer's condition and activity level. A summary of the user's wellbeing makes it easy to see at what time the user has woken up, how long he or she slept for, sleep quality, the user's activity level and whether he or she has taken any outdoor exercise. The wellbeing data makes is possible to take preventative measures relating to changes in the user's wellbeing, and to monitor the person's condition.
A new way to communicate with relatives
The Vivago MOBILE application supports communications between care providers and relatives. Notes can be sent quickly and easily. Relatives of the user have access to the Vivago MOBILE screen, from where they can see the user's wellbeing data.
The Vivago MOBILE application allows users and relatives to follow wellbeing details on a smartphone or tablet. 
With the Vivago MOBILE application, following wellbeing information is easy
The application receives alarms
Measures the user's activity level and changes to it
The application makes it easy to know the user's daily rhythms
Indicates whether the user is within reach of help
The Vivago MOBILE increases communications with care providers 
Download Vivago MOBILE brochure