Vivago Vista software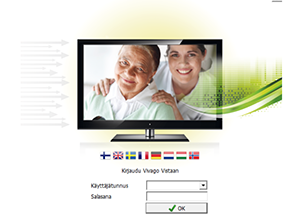 Vivago Vista knows how the customer is feeling
Vivago Vista software marks a completely new era in usability, functionality, and flexibility. The software has been designed in co-operation with care providers to support their everyday work.
The Vivago Vista software modifies the activity data collected by the CARE watch into easily readable wellbeing reports. With the software, care providers can track the development of the wellbeing and functional ability of their customers. Amongst other information, the reports show how the resident has slept, how active he or she has been in the daytime, the amount of outdoor activity, the number of alarm notifications that have been sent, the strength of the person's daily rhythms, the effects of medicine, and the amount of immediate care provided. The data can be used to make care more customer-centered, and to ensure that the resident gets the right care at the right time.
Remarkable benefits for care personnel
Care providers are not bound to any particular time or place, nor are they dependent on how other care providers use the software. From his or her own smartphone or computer, the care provider is completely free and independent to modify customer data, acknowledge alarm notifications, and analyze wellbeing data on the resident.
Individualized and targeted functionality
The usernames of care personnel can be set, and the content that each care provider is able to access can be delimited by care unit or individually. In this way, each member of the care personnel gets just the right functions and data that he or she needs from the Vivago Vista software.
Sends information conveniently from mobile devices
The data from Vivago solutions are also made available to mobile devices through the Vivago MOBILE application. Information flows conveniently with the care giver through his or her smartphone or tablet. With the application, wellbeing information is always easily available, and alarm notifications are simple to acknowledge with it.